VICTOR FAMUYIBO – BSc; MPA; LLB BL; FCIPM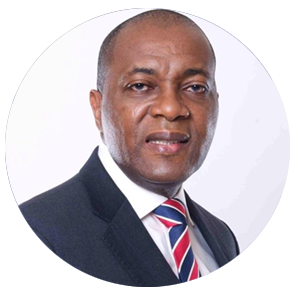 Victor studied Sociology at the University of Ibadan from 1976 to 1979. He obtained a Masters degree in Public Administration from the University of Lagos and later, a degree in Law from the same University. 
He was called to the Nigerian Bar in 1996.
Following 6-year HR work experience in a private company in Lagos, Victor joined Nigerian Breweries in 1986 as Personnel Manager, initially in Headquarters Lagos and later transferred to Kaduna as Brewery Personnel Manager
He returned to Lagos HQ to assume a new position as the Pioneer Job Evaluation Manager. In preparation for his new role, Victor had a 6-month on-the-job attachment to the UAC Nigeria Remuneration Division and the Unilever Remuneration Department, UK.
He attended the Remuneration Techniques Workshop at the Unilever Head Office in Black Friars London complemented by on-the-job attachment in the Personnel Department of various Unilever Production sites in the UK. Victor's function was subsequently enlarged to combine Job Evaluation and Remuneration, thus becoming the first HR Specialist in the Company's history to head a full-fledged Reward function. Much further into his job evaluation career, Victor attended several Hay Job Analysis/ Evaluation Workshops in London, Paris and Cape Town and became one of the first Hay Certified Job Evaluation Specialists in the Nigerian HR community.
Victor was later appointed Industrial Relations Manager. In this role, he managed Employee Relations, Collective Bargaining, Employee Engagement, HR Policy Development and related matters at corporate level. He was subsequently appointed Manpower Development and Training Manager with responsibility for Management Recruitment, Career Planning, Talent Management, Learning and Development.
In this role, he developed and implemented the Nigerian Breweries Campus Management Initiative (CMI) and the Young African Talent (YAT) program. For many years, these became the key pillars for attracting bright, young Nigerian graduates into the organization, from home and the diaspora to ensure a continuous, robust talent pipeline. He also developed and implemented a Performance Appraisal Calibration System to ensure objectivity and transparency in the company's appraisal process. In 2002, Victor was seconded to Heineken Corporate Headquarters in Amsterdam, The Netherlands.
In Amsterdam, he worked, first, as Human Resource Consultant in the global team of Heineken Hay Job Evaluation Specialists. Subsequently, he was appointed HR Policy Development Officer; Manager – Corporate Social Responsibility for Africa/Middle East and lastly as Human Resource Director, Africa/Middle East.
In this last role, he supervised the HR function across Heineken operations in the region, travelling extensively in Central, West and North Africa as well as the Middle East.
Whilst on cross posting in Holland, he was privileged to lead core HR projects in East and Central Europe, The Netherlands, Switzerland, North, Central and West Africa. He returned to Nigerian Breweries in September 2008 to assume the role of Human Resource Director.
In the same month, he was appointed to the Board of Nigerian Breweries Plc.
As part of his Board responsibilities, he served actively on the Audit committee and played pivotal roles on the Remuneration and the Nominations committees of the Board. Victor attended Executive and Senior HR Leadership Development Programs including the Unilever General Management Course at Four Acres, Surrey UK; Cornell University Utaka New York State, IMD Lausanne Switzerland, London Business School UK and Harvard Business School Cambridge MA USA, among others.
He was elected Fellow of the Institute of Personnel Management in 2003. Subsequently, he served as a two-term President & Chairman of Council of the Chattered Institute of Personnel Management of Nigeria (CIPM) from 2013 to 2015. He is currently Vice Chairman of the Human Capital Development Committee of Institute of Directors (IoD). He also serves on the Steering Committee of IoD's Young Directors Forum.
Victor retired from Nigerian Breweries PLC in January 2018 upon attaining the mandatory retirement age of 60 and following a distinguished career of 32 years. Shortly after his retirement, Victor was appointed by the Hon Minister of Labor & Employment to the Industrial Arbitration Panel (IAP) as a Federal Arbitrator.
He currently is Managing Partner at Nevitt Consulting, a boutique HR Consulting firm specializing in Executive Search, Mentoring, Coaching, Job Evaluation, Industrial Relations and general HR Consulting work. Victor is Chairman, Board of Directors of U-Connect Nigeria Ltd.
He also serves as member of the United Bank for Africa (UBA) Academy Council.
Victor is a certified Job Evaluation Specialist
Our Distinguished Faculty